☾ Ananda is a 108 beads Japa Mala Necklace designed for Kandy Disenos, with 8mm Genuine Deluxe Crystals:
The stone of LOVE! Calm, serenity and emotional healing. It has a wonderful peaceful energy. 
Rainbow Moonstone grade AA. 
Moonstone is a mystique and magic stone of transformation, positive changes, good Luck and Love. It brings balance and enhance your energy, intuition and inspiration. 
Stimulate acceptance, forgiveness and unconditional love towards others. it helps to bring peace to troubled relationships. 
Delicate stone with a refined vibration. It stimulates originality and creativity. Protective stone. The opal amplifies the personal charm to the surface. LOVE, passion, sensuality, freeing inhibitions.
A stone of Strength, Protection, Harmony, Creativity ♡ Agate is also known as a good luck stone, brings peace, happiness. 
Stimulates and strengthens the throat chakra, communication and creativity. Jasper is the stone symbolizing strength of mind and courage, therefore it is used to strengthen the emotional field, mental and spiritual energy.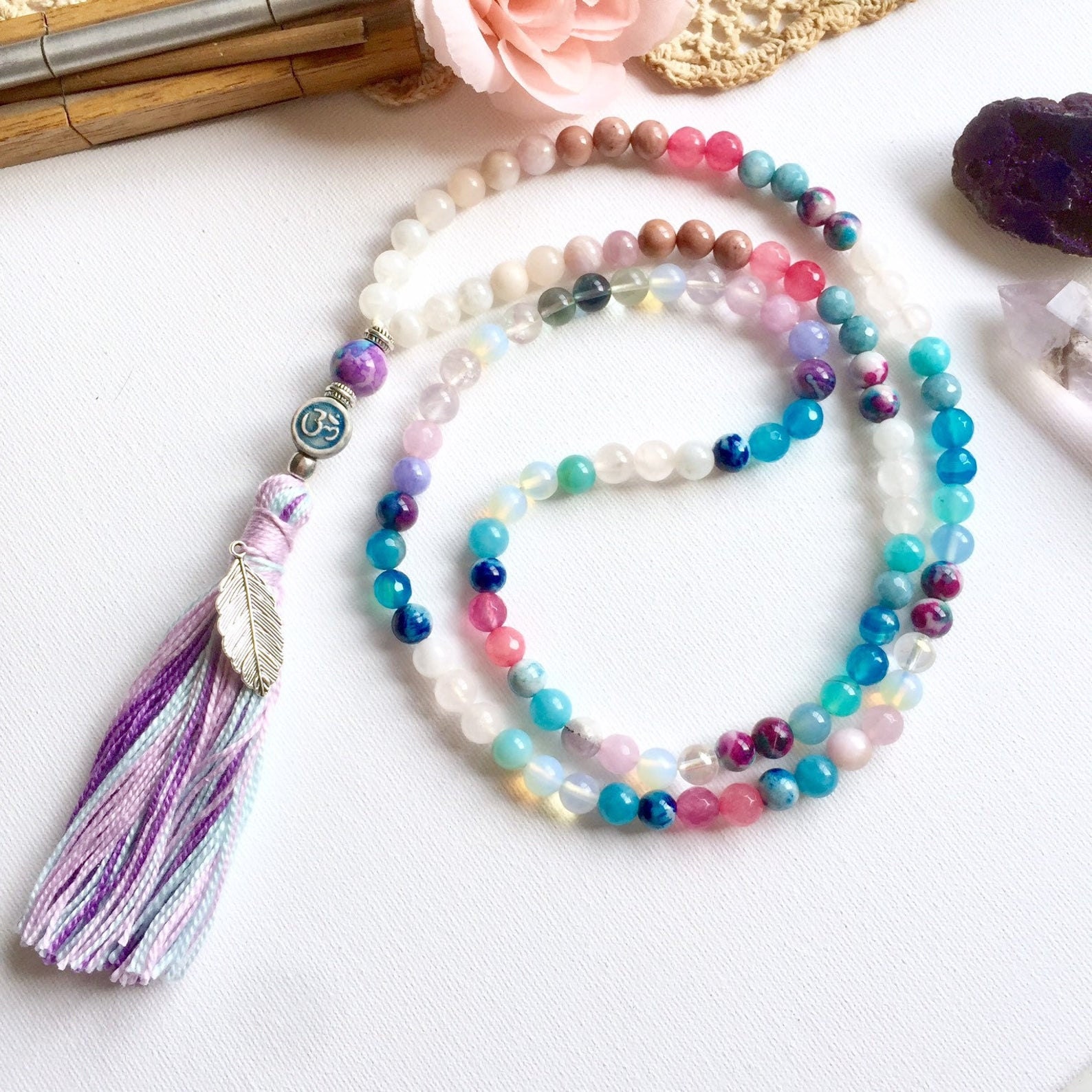 This wellness jewel mala will be made to order to connect with your energy during a meditation with a yoga mantra: Om Mani Padme Hum. This mantra awakes the loving and unconditional qualities of compassion innately present in you.
ॐ The mantra activated infuse each bead with a positive energy and vibration.
A mala necklace is a beautiful tool to establish intentions and generally to feel good. These beautiful beads are the perfect addition to your Yoga practice, meditations, ideal for practicing affirmations and mantra chants... or just to feel the wonderful vibes of the necklace!
Find it here: https://www.kandydisenos.com/listing/712782146