☾ Joy is a 108 beads Japa Mala Necklace featuring Rose Quartz, Sandalwood and Pink Agate, with glowing opalite crystal pendant. A crystal necklace for Love, Joy & Peace ☽ 4th Chakra Healing Necklace.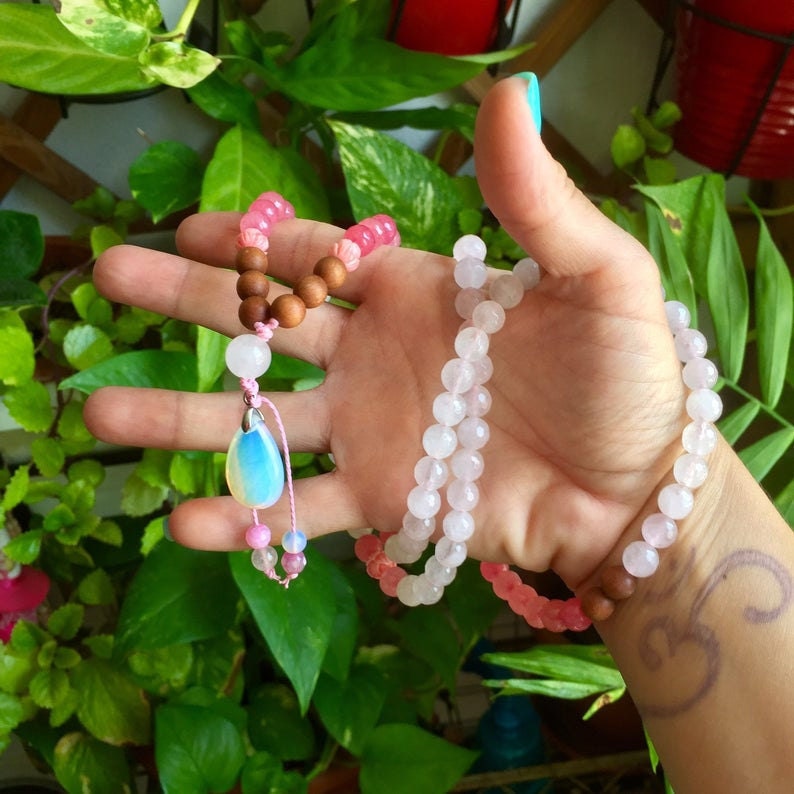 ✧ Rose quartz is the stone of True Love and emotional healing ✧ 
This mala includes:
+ Deluxe Crystals which ensure the best benefits! 
+ Pretty Rose Quartz as Guru Bead (10mm)
+ Lovely pink carved flowers. 
+ petite 5mm beads as accents.
+ Beautiful opalite pendant featuting a lovely glow and rainbow colors when it receives the light! 
✧✧✧✧✧ "The most beautiful thing I have ever seen - I am totally in love with these amazing mala beads... They are truly wonderful."
Discover all the benefits of the Heart Chakra crystal stones included in this design: 
The stone of LOVE! Calm, serenity and emotional healing. It has a wonderful peaceful energy. 
A stone of Strength, Protection, Harmony, Creativity ♡ Agate is also known as a good luck stone, brings peace, happiness. 
Sacred indian wood to promote peace and calm.
For a happier life. Activate the heart chakra. Protective. Refine your intuition. Harmonize. It provides emotional balance, joy and creativity. Improve communication.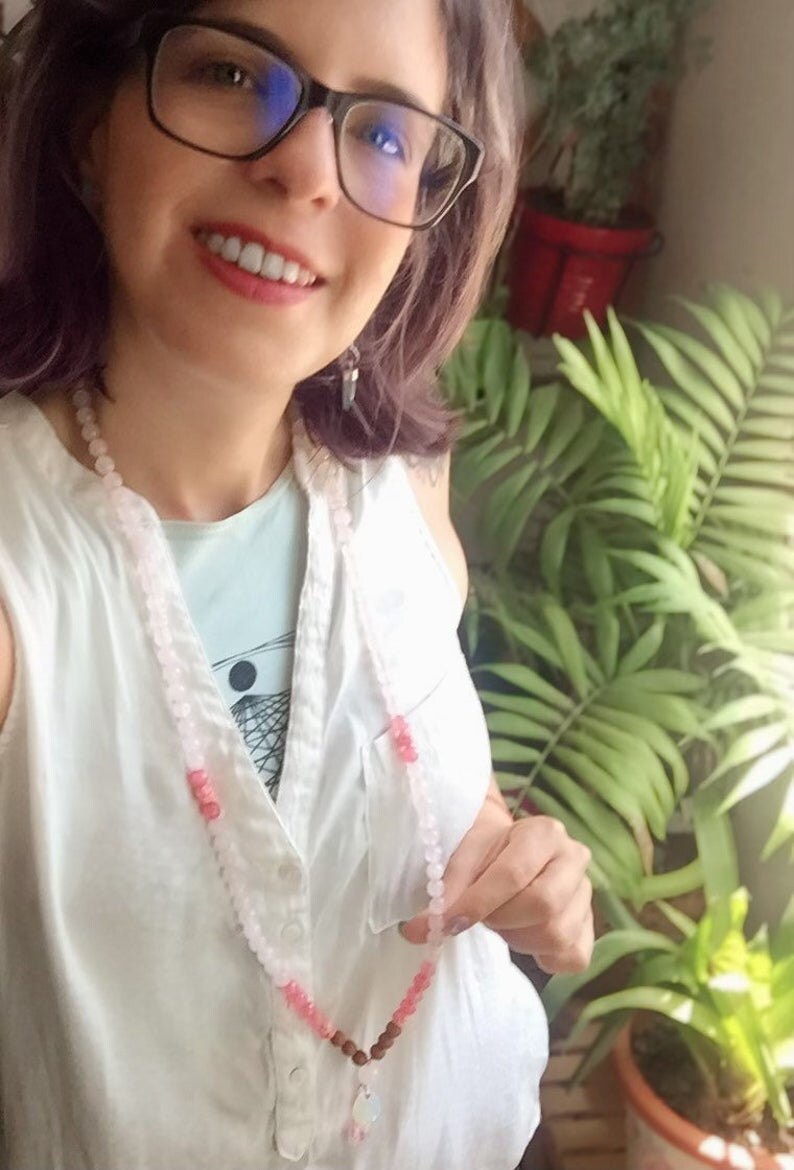 This wellness jewel mala will be made to order to connect with your energy during a meditation with a yoga mantra: Sa Ta Na Ma. This chant contains 5 sounds that create vibrations that can transform, heal, make you feel calm and bring the balance back in yourself and around you.
ॐ The mantra activated infuse each bead with a positive energy and vibration.
A mala necklace is a beautiful tool to establish intentions and generally to feel good. These beautiful beads are the perfect addition to your Yoga practice, meditations, ideal for practicing affirmations and mantra chants... or just to feel the wonderful vibes of the necklace! 
Check this design here: https://www.kandydisenos.com/listing/712779476