☾ Bloom Moonstone  108 Mala Necklace for Love & Positive changes ☽ 4th Chakra Healing Necklace.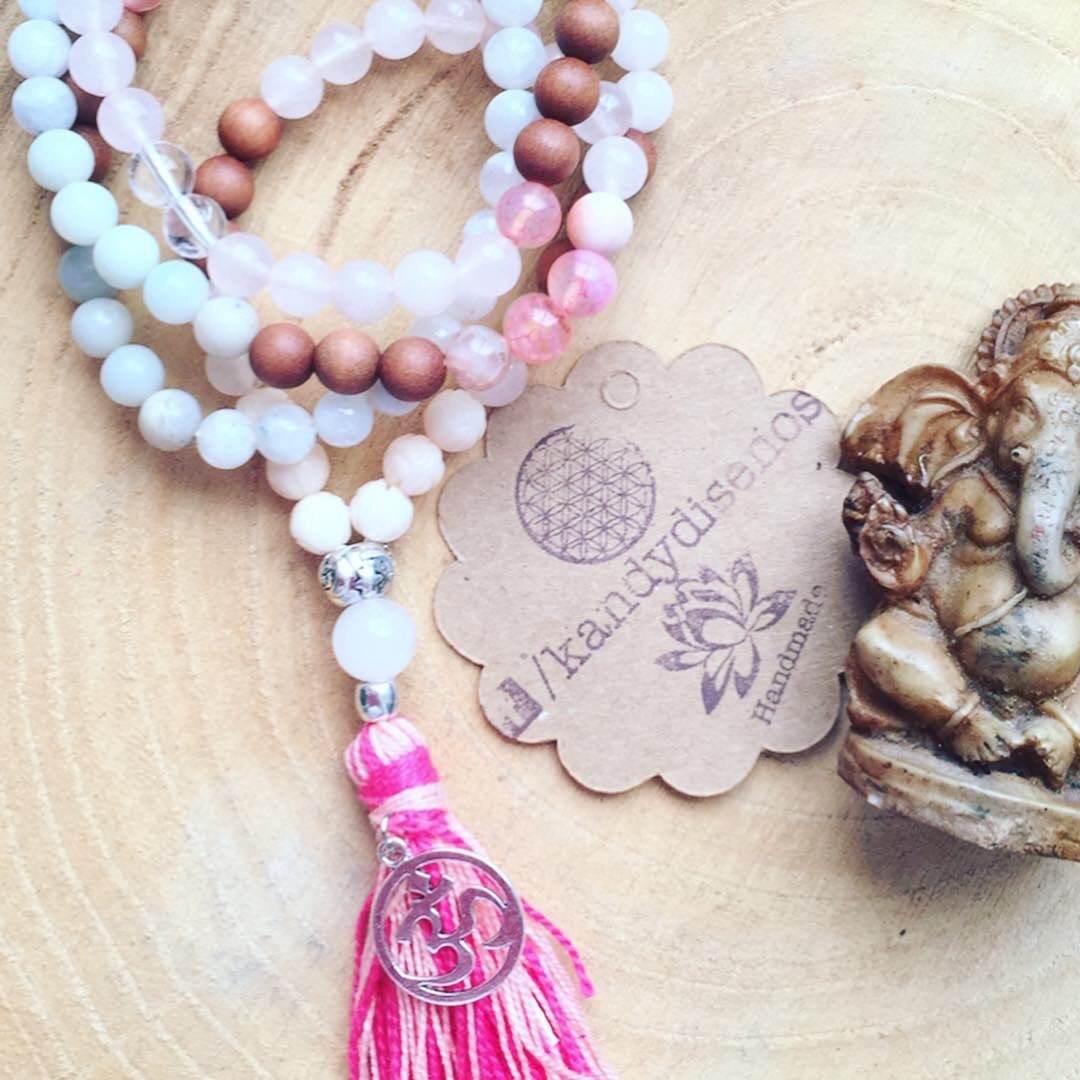 This Divine prayer beads necklace is Conscious Hand Crafted in White & Pink with touches of brown, featuring 8mm Genuine Crystals: 
RAINBOW MOONSTONE 
Mystique and magic stone of transformation, positive changes, good Luck and Love. It brings balance and enhance your energy, intuition and inspiration. 
ROSE QUARTZ
The stone of LOVE! Calm, serenity and emotional healing. It has a wonderful peaceful energy. 
AGATE
A stone of Strength, Protection, Harmony, Creativity ♡ Agate is also known as a good luck stone, brings peace, happiness. 
JASPER Stimulates and strengthens the throat chakra, communication  and creativity. Jasper is the stone symbolizing strength of mind and  courage, therefore it is used to strengthen the emotional field, mental  and spiritual energy.
ROCK CRYSTAL STONE 
Promote harmony, healing, clarity and calm. It is also an energy regulator.
Natural SANDALWOOD 
A deep relaxing wood with a sweet aroma, attract positive energy and center the mind helping to feel good. 
+ Pretty Rose Quartz as Guru Bead (10mm)
+ Long multicolor 100% cottonTassel with Metal Ohm pendant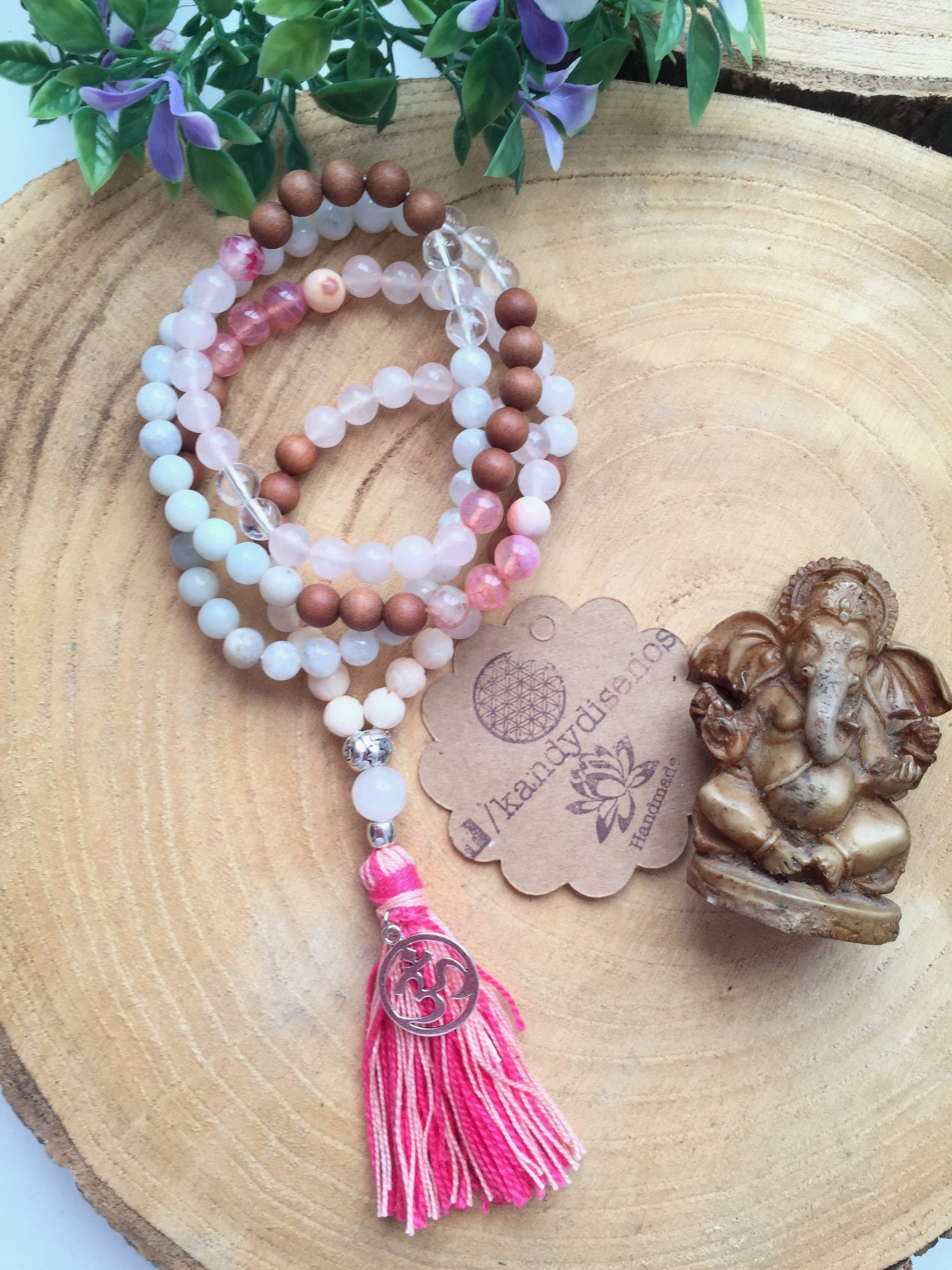 ✧✧✧✧✧ "Wow!!!! It's hard to express with words the incredible beauty and magic of this stunning bloom mala and bracelet!! They are divine!!!🌟💗🌟" 
Included minerals are also excellent to aid anyone who has been feeling in a wave of emotions, anxious or fearful and want some clarity, balance, love and optimism. Benefit your body, mind and soul with all the healing properties of the Chakra Colors and Crystals used in this Mala: each stone has been carefully selected to work in your heart (4th Chakra) allowing you to have meaningful relationships and the feeling of harmony, empathy & passion. 
The Crystals and Mantra are used from ancient times for love and feminine energy.  This wellness jewel mala will be made to order to connect with your energy during a meditation with a yoga mantra: Adi Shakti Namo Namo. This mantra awakes your Divine Creative Energy and connect you with Universe´s Energy. It will help you to be free of the insecurities which block freedom of action. Elevate your soul and deeply connect with your feminine creative energy! 
ॐ The mantra activated infuse each bead with a positive energy and vibration.
A mala necklace is a beautiful tool to establish intentions and generally to feel good. These beautiful beads are the perfect addition to your Yoga practice, meditations, ideal for practicing affirmations and mantra chants... or just to feel the wonderful vibes of the necklace! 
Crystals and colors are carefully placed to create an unique crystal ombre effect you will only find in my designs!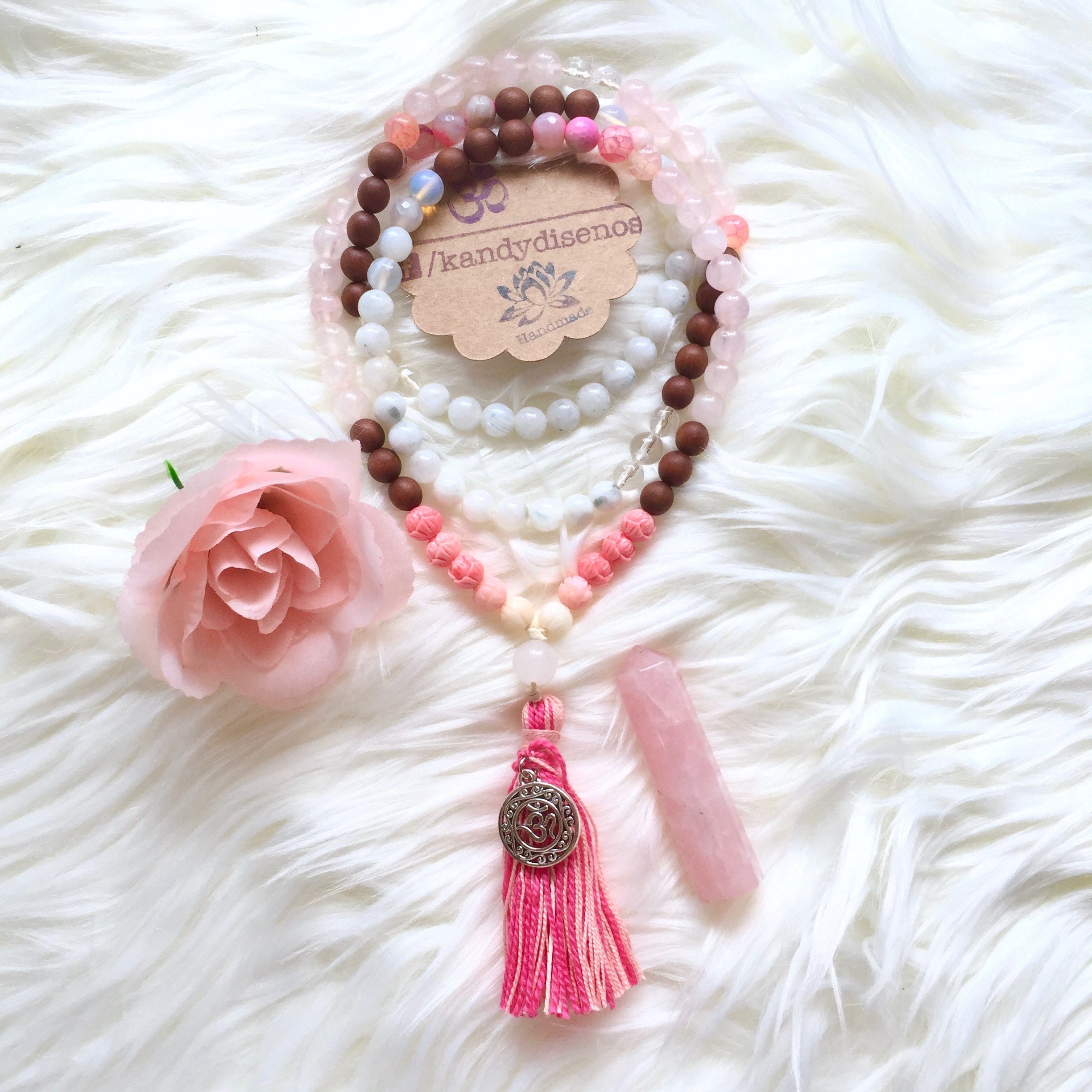 ✧✧✧✧✧ "Highest quality gemstones and made with LOVE!! So happy to have these beautiful treasures!" - Kasey
You can expect a mala that will be totally made with heart!  
It will be a great inspirational gift for you or for a loved one. A gift for eyes and soul!