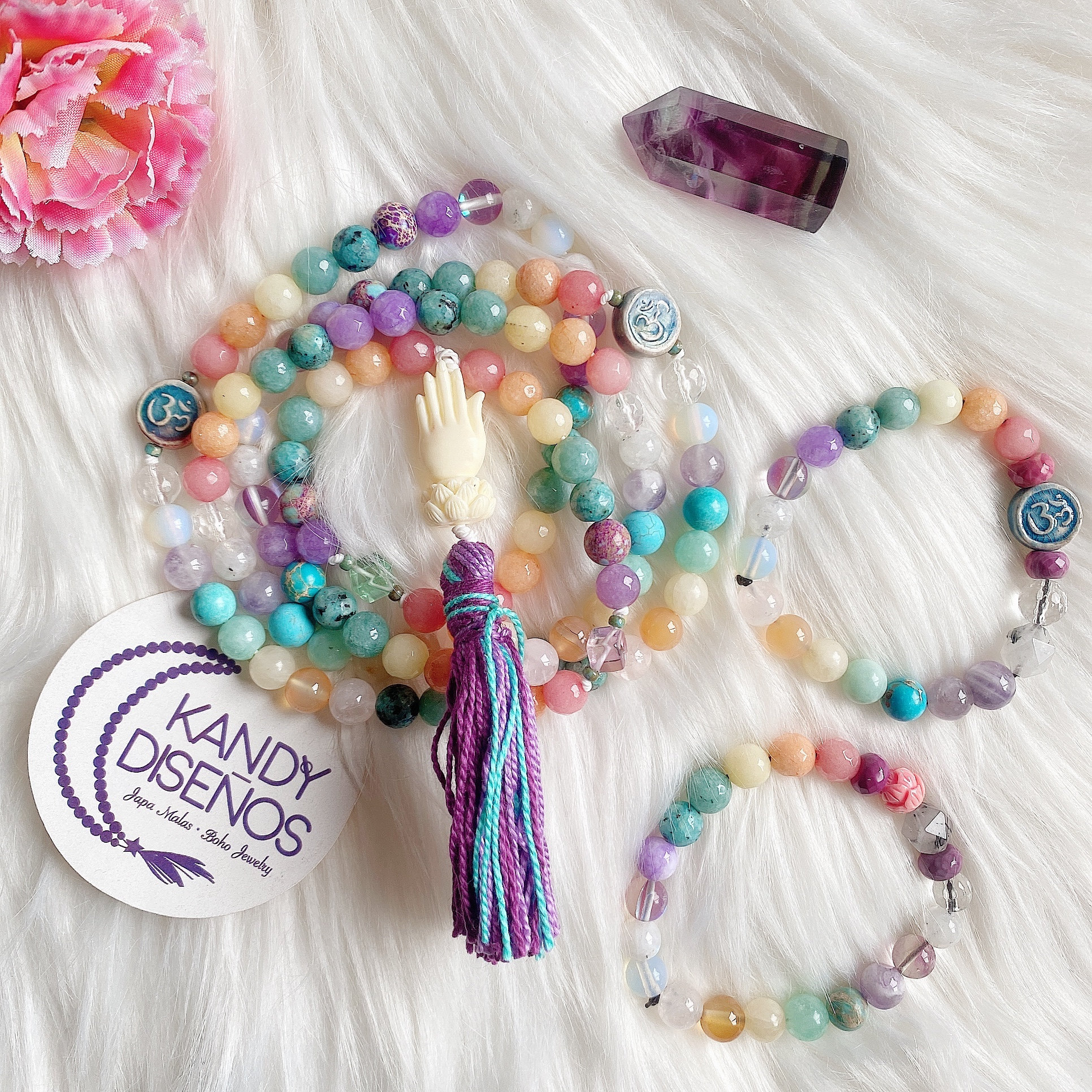 View Chakras Set Mala + Bracelets 
Good day! 
Today I want to show you this new collection that I have created for the balance and healing of the chakras in a pastel palette to provide an energy of calm and relaxation. 
When our energy centers are in balance and open you feel good, with joy and passion for life, manifesting harmonious relationships, expressing yourself from your heart, with intuition and with your activated Heaven - Earth connection.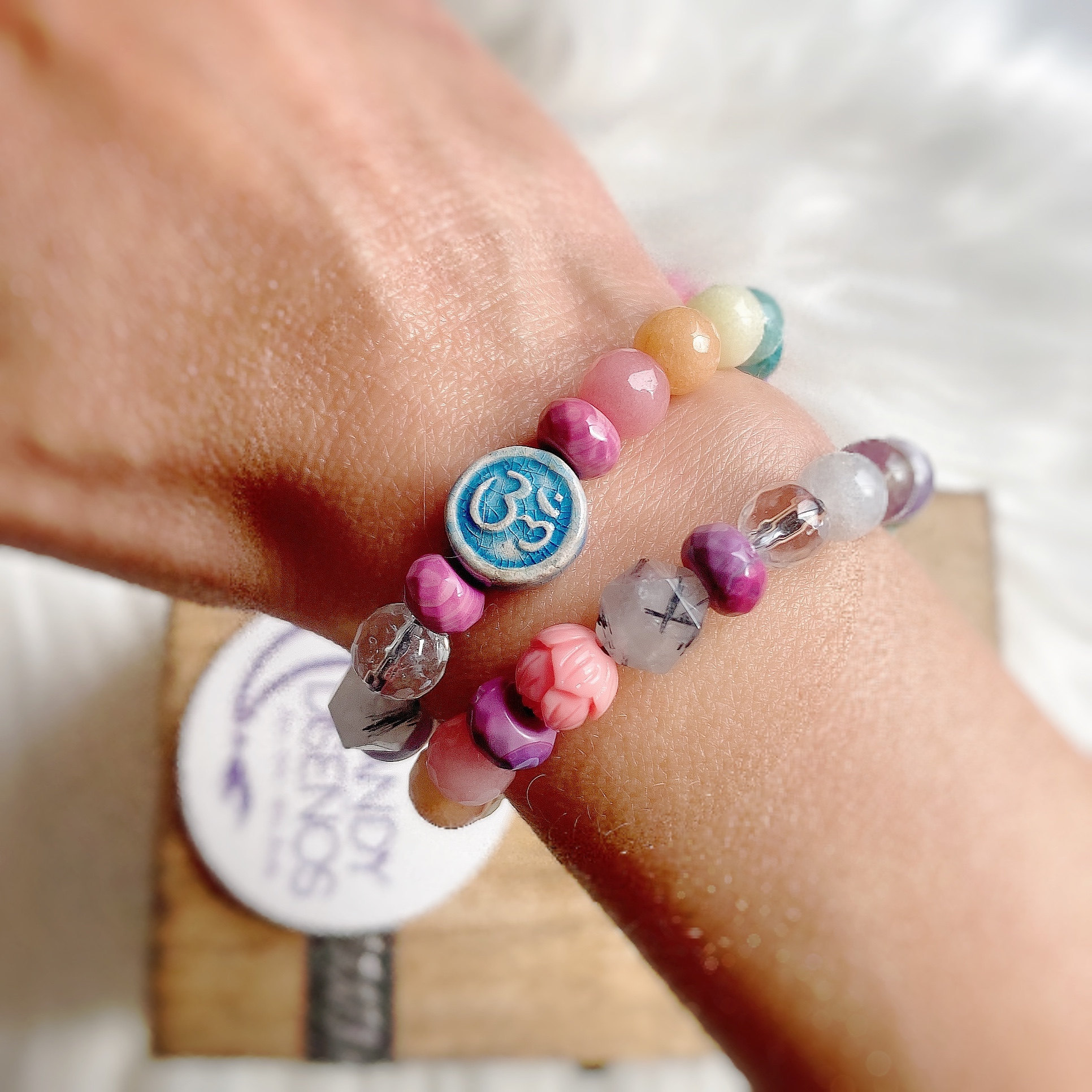 They include quartz for each chakra and those peaceful colors that look great and feel good. 
In addition, these chakra crystals bracelets and necklaces are activated with Ganesha's Mantra for protection and removing obstacles. 
Ganesha is the God of good luck, prosperity, and fortune in all areas of our life. He protects from any environment of negativity.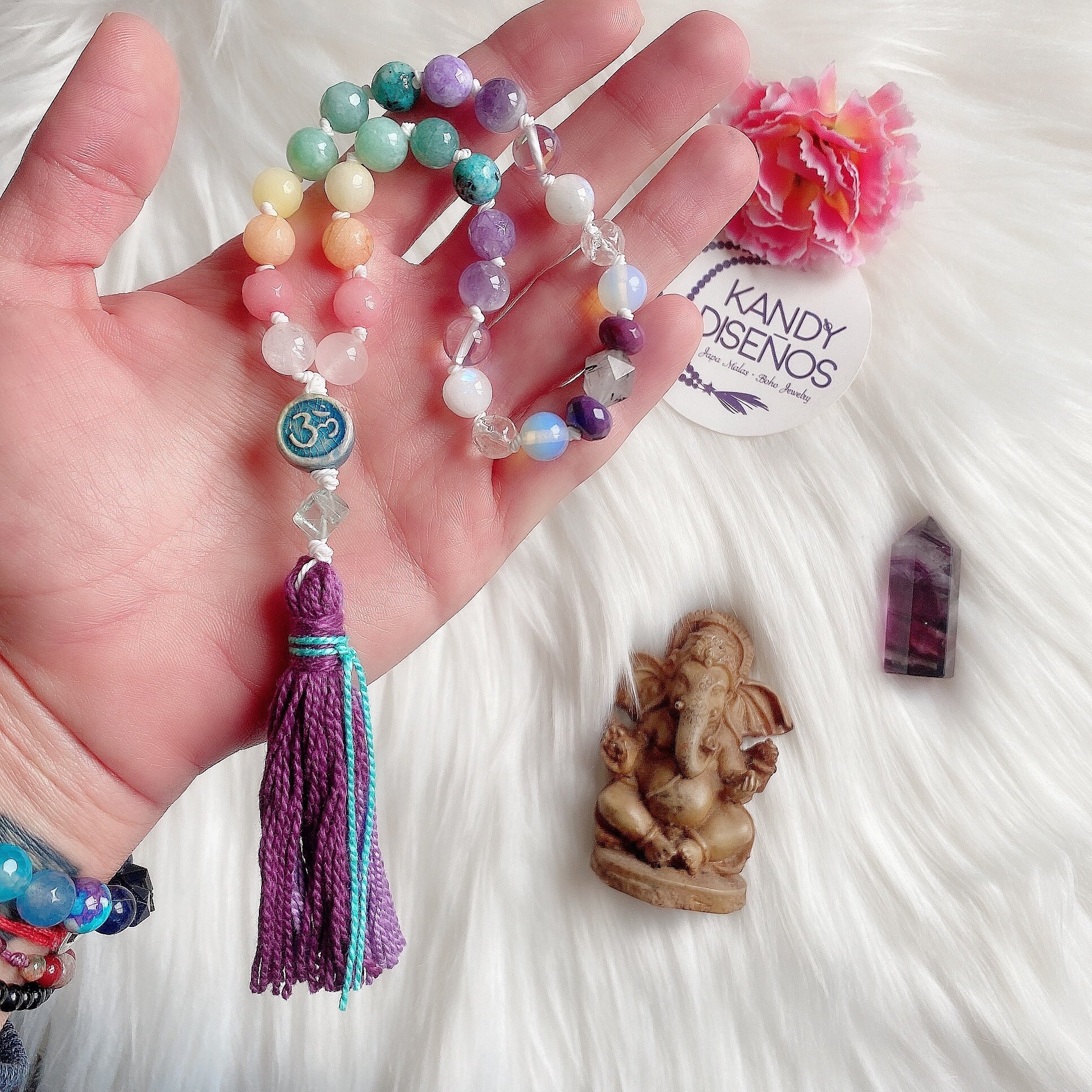 Check the 27 beads pocket mala for chakras
The Mala is Zen Style: it has 4 markers to help you focus during your meditation time, so it is designed with 7 beads - marker - 14 beads - marker - 66 beads - marker - 14 beads - marker - 7 beads... for a total of 108 beads + the 4 markers. They are also pretty accents when it is used as boho necklace!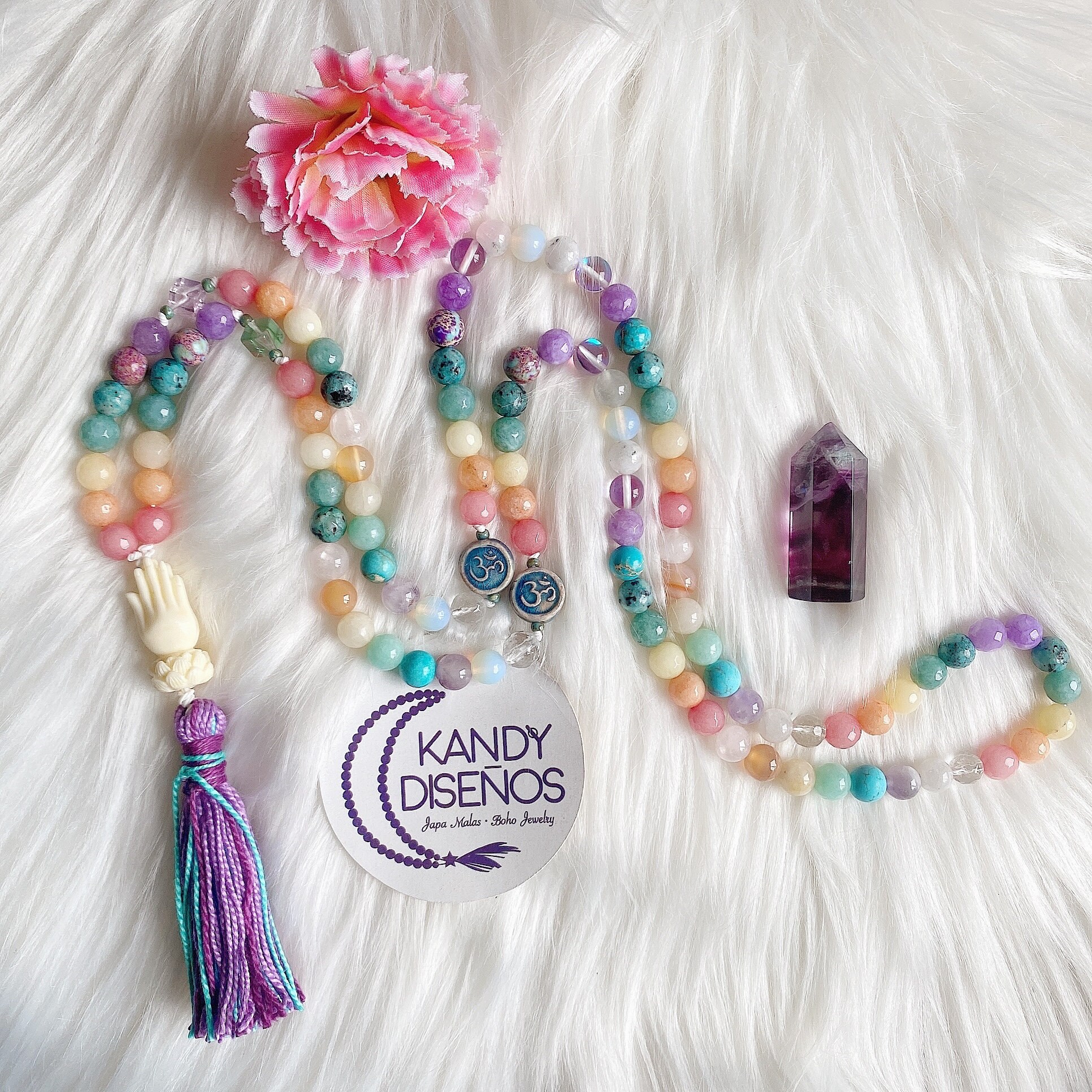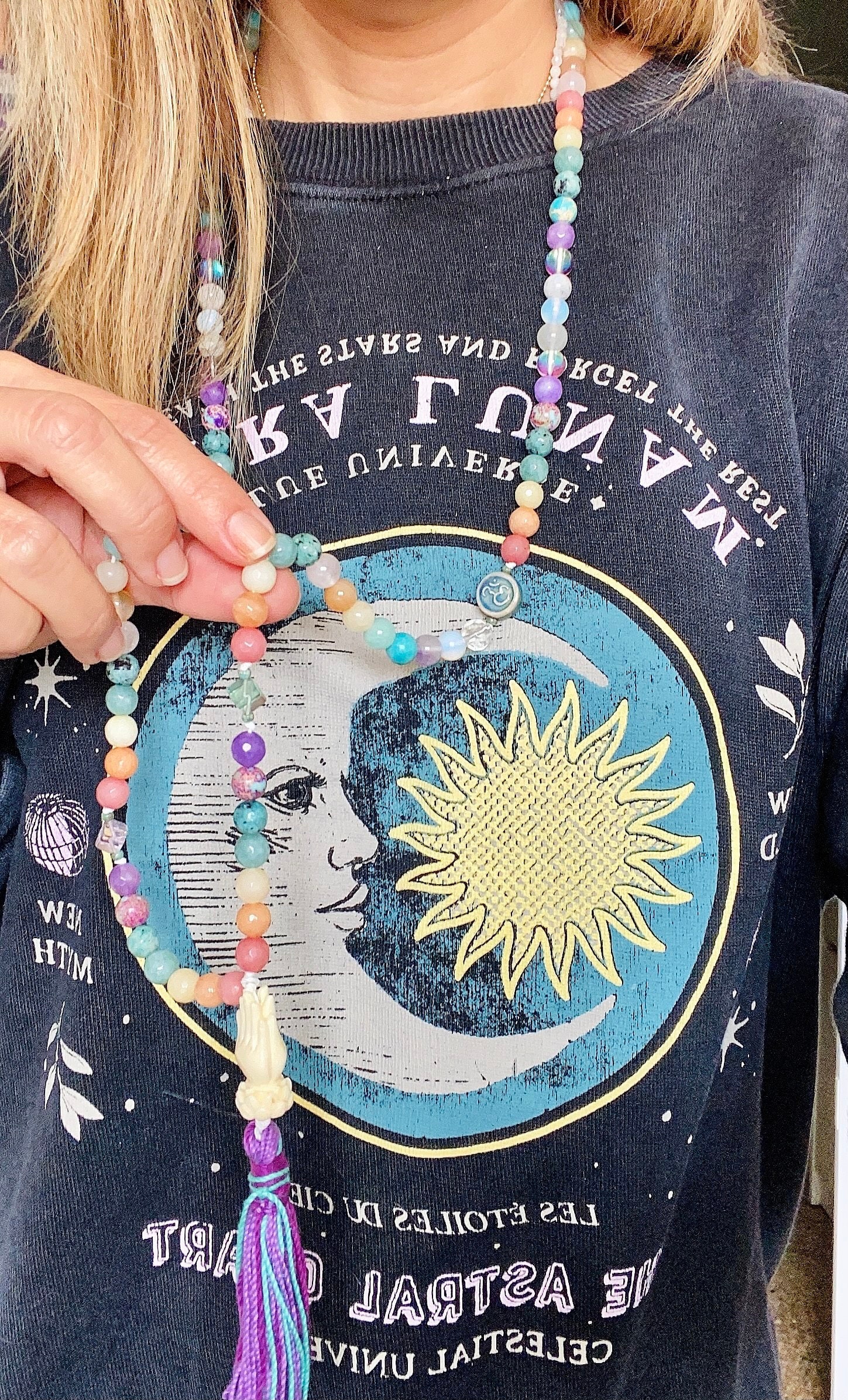 The japa mala and the bracelets include ceramic charms handmade in Peru, they have the Om symbol. The 108-bead japa mala features a guru bead with a Namaste charm, hands in prayer position.
______✧ CRYSTALS + DETAILS ___________
✧ ☾ Conscious Hand Crafted with 8mm crystals to balance each energy center::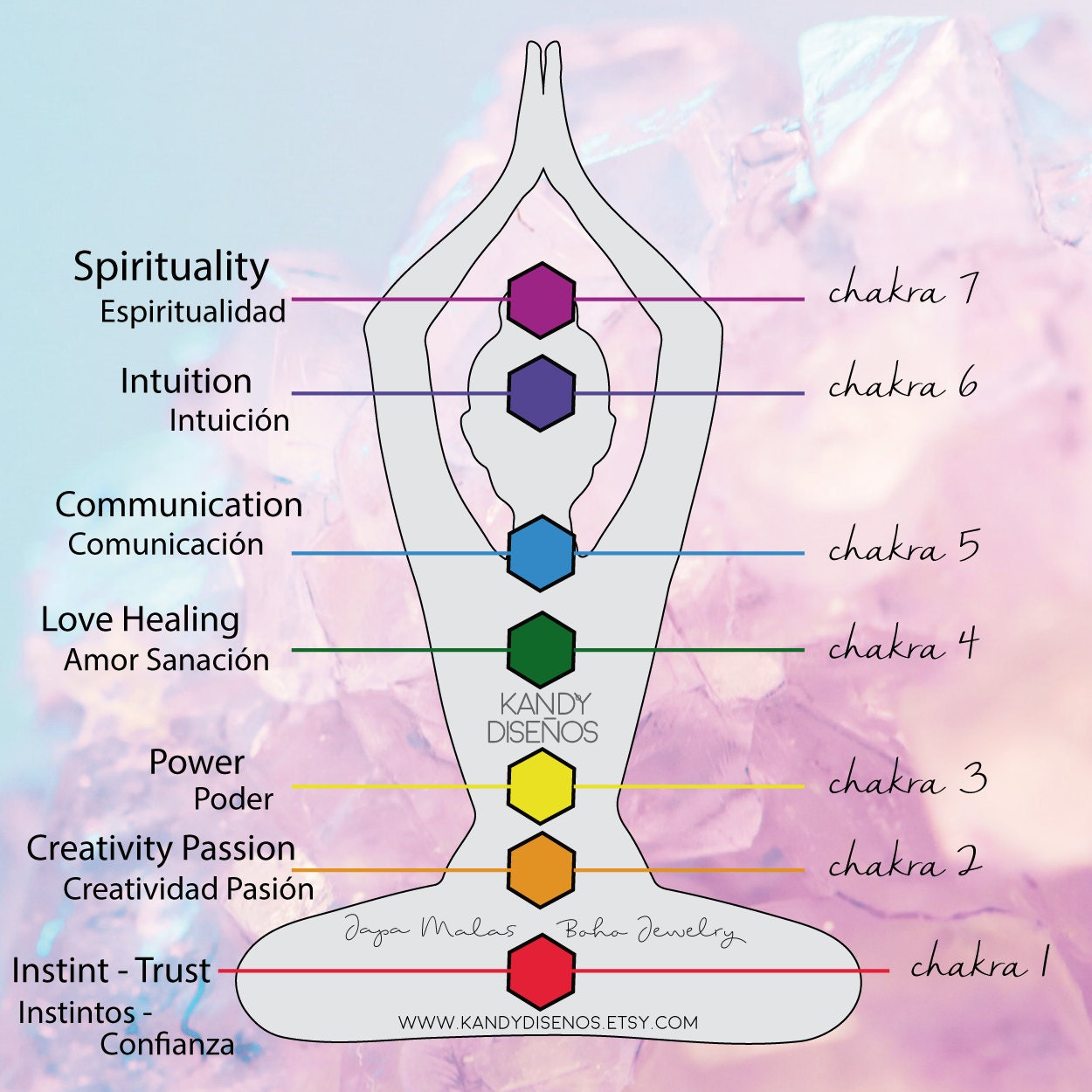 · 1st Chakra | Security and Grounding. Instincts, roots.
CRYSTAL | Agate ·
Strength and stability. Known as Stone of Power. 
· 2nd Chakra | Passion, creativity, sensuality.
CRYSTAL | Carnelian · Orange Agate
Energizing, promotes self-esteem and combats shyness.
Increases personal power. Remove negative energies.
· 3dr Chakra | Inner power, courage.
CRYSTAL | Yellow Jasper · Yellow Agate ·
Develops courage, self-confidence, clarity and will, security in the goals in life.
· 4th Chakra | Love, relationships, compassion, forgiveness
CRYSTAL | Rose Quartz · Pink Agate · Jade
Meaningful relationships and the feeling of harmony, empathy & passion.
· 5th Chakra | Communication, inner expression
CRYSTAL | Blue Agate ·  Blue Jasper
Expression, Peace, serenity, wisdom, integrity, enlightenment.
· 6th Chakra | Intuition, inner vision
CRYSTAL | Amethyst · Purple Agate
Energy and light. Relieving stress. Favors intuitions, inspiration, imagination. 
· 7th Chakra | Wisdom, consciousness, healing, meditation.
CRYSTAL | Rainbow Moonstone · Crystal Rock · Mermaid Crystals
Help to overcome anxiety. Promote meditation.
Helps to think more clearly and positive.
Help you to follow your spiritual path.
☾ Mystical calming colors to focus your mind during meditation and a fabulous Sacred accesory with a bohemian touch. Receive the healing benefits to the mind and the spirit that minerals brings!